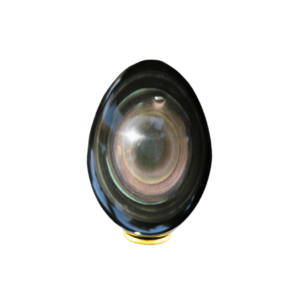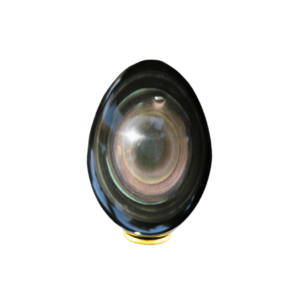 The Yoni Crystal-Egg is a name for a beautiful semiprecious Crystal carved into an egg shape and polished to be worn inside your Yoni (a Sanskrit word for vagina that means "source, origin or sacred space". Its symbol has been worshipped in Eastern culture since ancient times for bestowing life, creativity and love. We will be using the term Yoni to bring appreciation and acknowledgement to the Western culture of the creative power this magical part of the female body holds.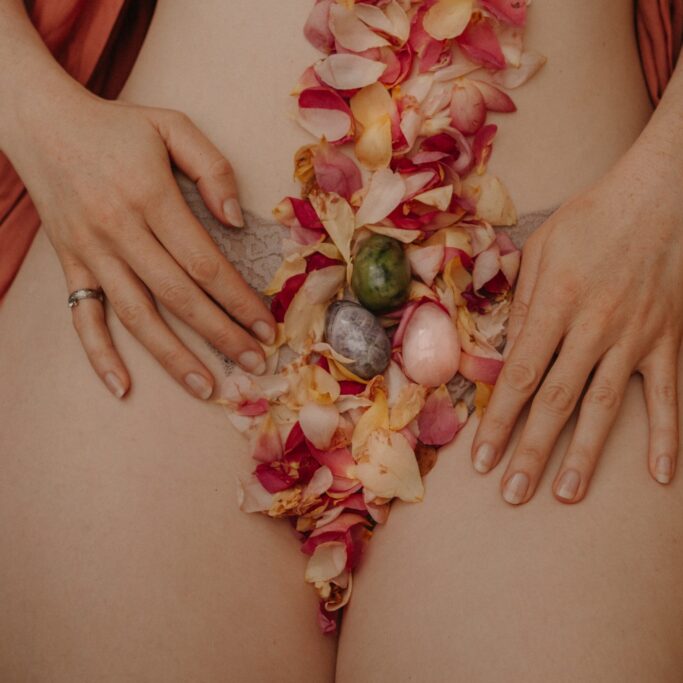 The female practice that involved using the Yoni Crystal-Egg is estimated to be 5000 years old. Eggs carved out of jade were used by empresses and concubines of the royal palace in China to access sexual power, awaken the sensuality and maintain amazing health into their old age. For a very long time, this secret practice was only available to members of the royal family, and to select Taoist practitioners.
Whatever the reason (traditional or new) Healing Crystals are an incredible gift for your practice that will make you experience the deepest of yourself, love and pleasure.
The Crystal-Egg isn't just a beautiful accessory. It isn't just a great tool for pelvic floor exercise or a way to maintain health and well being, have a more fulfilling love life. The Yoni-Crystal-Egg is pure earth essence and an ancient, sacred tool for your transformation. Each crystal has unique properties that can affect your body in many different ways.
Here are some of the benefits that give your body a treat and you will experience while using the Yoni-Egg (to name a few of various reasons you should become familiar with this sacred, ancient tradition):
It helps create an intimate and loving connection with your Yoni, your entire body and ultimately yourself.
It strengthens your pelvic floor muscles.
It increases sensation during sex.
It revitalizes the nerve endings in the pelvic floor and yoni.
It promotes blood flow to the uterus.
It improves the overall life force energy or vital life "chi" in the body (according to traditional Chinese philosophy and medicine).
It increases sexual energy and awakens the libido.
It is used to prepare for birth and accelerates Pelvic floor muscle recovery after childbirth.
It increases the lubrication of the yoni.
It helps prevent a prolapse, where the pelvic organs leak from the vagina or anus due to muscle weakness or atrophy.
It relieves incontinence (weak bladder/uncontrolled urination).
It helps to stay grounded in the body and brings awareness to the yoni, uterus and the entire pelvic ligament.
It increases the health and a deep sense of being at home in your body and having a sensual nature.
It Helps To Feel More Empowerment Over Your Body And Make Healthy Decisions When It Comes To Intimate Relationships.
It Helps Women Who Need To Recover From Trauma.
It Helps To Gain Control Over The Yoni Muscles During Perimenopause, Menopause And Postmenopause.
It Improves Overall Health And Well-Being.
the range of healing effects is so extensive, I would like to recommend you that before you start with the Pelvic Floor Exercise, either to inform yourself in detail about the practices or to book my 1:1 treatment, where I teach you the necessary knowledge that matters before you start using the crystal. During a 1:1 treatment, you dive deep into the wisdom of your body. You learn about the origin, about the application, the practices, and why it is so important to integrate the crystal in loving rituals so that it can unfold its full potential. It is no coincidence why you are attracted to this practice because you feel called to know more about it and to understand your pelvic floor even more.
   The only woman for whom this practice is NOTHING is the one who does quick solution expects, without being prepared, a little effort in creating great
   to devote to transformations.
 What You Get:
1 x 45-minute 1 on 1 consultation call via phone or Zoom, in which we discuss the pelvic floor training, and you can ask your questions.
Your own Yoni-Crystal-Egg of your choice (values 125 Euros). Exclusive only to this program is a extensive Workbook about the Yoni-Egg practice, including pelvic floor training, which is so rich in valuable information that it corresponds to a six-hour workshop.
How to strengthen and learn your body awareness with special exercises.
Regain control of your pelvic floor.
Discover the fascinating history of the Yoni-Crystal-Egg and its 5000 years of ancient Asian practice arrived in today's modern world.
WhatsApp support from the preliminary to the final consult.
1 x 45 minutes 1 on 1 follow-up call via telephone or Zoom.
Price: 349 Euro, including 14 Euro
DHL Go Green climate-neutral shipping EU insured
If You Wish, Instead Of A 1:1 Treatment To Buy A Yoni Crystal Egg By Itself, The Regular Price Is 139 € Including 14 € Shipping Fee.
The shipping fee for
is calculated for European Countrys only (when ordering from England or Switzerland, please let me know in advance to calculate the shipping fee accordingly). The shipping fee is already included in the amount to be paid. You can pay by bank transfer or via PayPal for a small surcharge. If you want to pay by bank transfer, please indicate this in the contact form below together with the Crystal of your choice and I will send you the bank details. As soon as your package has been dispatched, you will receive a dispatch notification, including a receipt via e-mail.
Thank you, I have received your message, I will answer soon.
Sorry, something went wrong, please try it later.
Click here if you need to recupere your message and copy it into your clipboard
If you wish to pay your Yoni-Egg via PayPal, click the button below to go to the order and payment process. Before you enter the payment process please let me know via the contact form above which Crystal you like to buy to ensure that your choice is in stock . As soon as your package has been dispatched, you will receive a dispatch notification, including a receipt via e-mail.
My world around me my altar
Every thought an intention
To manifest all that will be