 I am the Founder of BLOOM, Health Practitioner, Peristeam Hydrotherapist, Doula Birthkeeper, Yoga Instructor, Passionate Advocate of Natural Living and Mother of a Star Child.
I have spent over 22 years working with, treating, mentoring and empowering women;
to work, to treat, to accompany and to strengthen them; one could also say that I have worked all these years in the service of women – and with all my heart until today!
Supporting women on their unique path from young women to motherhood and beyond is not just a job for me; it is my calling. Since my early twenties, I have devoted my studies to several traditional healing methods, various massage therapies and botanical studies. I love what I do, what I create and who I create it for – You!
Through carefully crafted programs, I offer treatments and products that naturally combine ancient and new medicine for women. I offer a wide range of herbs and plants and integrate several influences from Ayurveda, Traditional Chinese Medicine and ancient European alchemy I have learned over the years. Through Peristeam Hydrotherapy (herbal vaginal steam baths, also known as yoni steam baths), yoni egg pelvic floor exercises for a holistically healthy pelvic floor and Doula birthkeeping to ensure new moms, pregnant women and couples feel supported, cared for, nourished and nurtured, because BLOOM is based on love.
It takes a lot of knowledge to be healthy and in tune with our female cycles and bodies, and it takes a whole village to raise a mother! And if women feel healthy, nurtured and nourished, families are happy, nurtured and nourished, and then we are all much better off!
Especially nowadays, it is particularly challenging to be a woman. But it is even harder to navigate a world where caring for and supporting women is not a priority. So I decided to make a change, working out one treatment after another until I had developed a holistic program for women (a yoni steam bath program with a personalized blend of herbs, a pelvic floor training that is a pleasure instead of agony and for the pregnant or new moms a loving doula birthkeeping program to enable women or mothers with busy everyday lives to live a more fulfilling life, because it is essential to me that my treatments deliver results!)
I am deeply fascinated by archetypes, body types, and the connections between illness and health. Therefore, according to Dr. Natasha Campbell-McBride, I deal extensively with nutrition, conscious nutritional supplements and traditional nutritional science.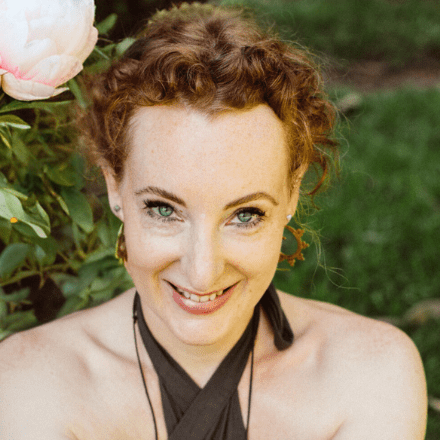 I have travelled the world and made a great career as a Wellness Therapist and Spa Manager in the luxury hotel industry. Towards the end, I worked as a Spa Manager at a multi-billionaire vacation home and one of the leading luxury hotels, "The Ritz-Carlton Vienna" – while Tina Turner and other celebrities were among my regular customers. The side effects were a 60-hour week, working on weekends and holidays. I have had many exciting years, have travelled the world extensively, educated myself in various traditional, ancient and modern health treatments, and moved 33 times in 38 years of life.
I didn't stop until I couldn't go on anymore, till I was crippled with anxiety and depression and literally couldn't get out of bed. I had been living on the fast lane, exhausted all my supplies and had nothing to give. My cycle was completely off track, accompanied by excruciating pain, abdominal cramps, chills and vomiting. I also developed hives (urticaria), and my nutrient levels were completely out of whack.
While some blood values showed an apparent deficiency, others began to increase. Overwhelming, Exhaustion, Depression and Inflammation … and that was just the beginning!
After working around the world for fourteen years, I was diagnosed with severe burnout syndrome. But what should I do? I had an expensive apartment in Vienna, financial obligations and was suddenly self-employed.
So a few months later, I was determined to get back on my feet, to move out as soon as possible to start a new life as a yoga teacher, but with the pandemic, everything would change, so I got the time my body needed.
I moved back to Germany and took the time I needed. But this time was anything but flowery. I endured a significant loss through a miscarriage followed by a breakup after ten years of a relationship with the love of my life. Unquestionably, you can imagine how devastated I was after this significant loss. BUT fortunately, it was what I needed to find my Darma (life purpose), to get back to myself and to heal myself of all my ailments. I became my own healer through my already rich therapeutic knowledge and my studies to become a Peristeam Hydrotherapist. The success I experienced eventually led me to found BLOOM. Ever since that healing period, I knew I had to devote myself entirely to natural feminine medicine to help women deeply.
I began to focus specifically on creating powerful herbal blends that relieve the discomfort of more extreme issues – menstrual cramps (irregular/absent menstrual cycles), clearing blood clots, reducing symptoms such as bloating, cramps and pain during menstruation, PMS and endometriosis, hormonal imbalances, skin rashes such as rosacea and internal inflammations of all kinds.
So often, we rush through our daily routines or, quite naturally, without thinking twice, take medication, go through hard-hitting diets and fasting regimens, and use twenty different products without thinking about the consequences of what we are doing to our bodies.
My story isn't uncommon; I know many women have been through far more than I have. But I tell it in the hope that it may help others. It seems like a lifetime ago, a different time.
Today I'm proud that BLOOM is part of a very important movement, namely that of women's and mothers' self-care!
The Green Witch Is A Naturalist, A Herbalist, A Wise Woman, And A Healer. She Embraces The Power Of Nature; She Draws Energy From The Earth And The Universe; She Relies On Natural Objects Like Stones And Gems To Commune With The Land; She Uses Plans, Flowers, Oils, And Herbs For Healing; She Calls On Nature For Guidance; And She Respects Every Living Being, No Matter How Small.